mardi 4 juin 2019
:: perrick ::
Notes
::
aucun commentaire
::
aucun trackback
Zoé Chantreau découvre
la dernière oeuvre de
Bufalino
: une
grande terrasse en palette, au dessus de voitures garées au bord d'une rue
.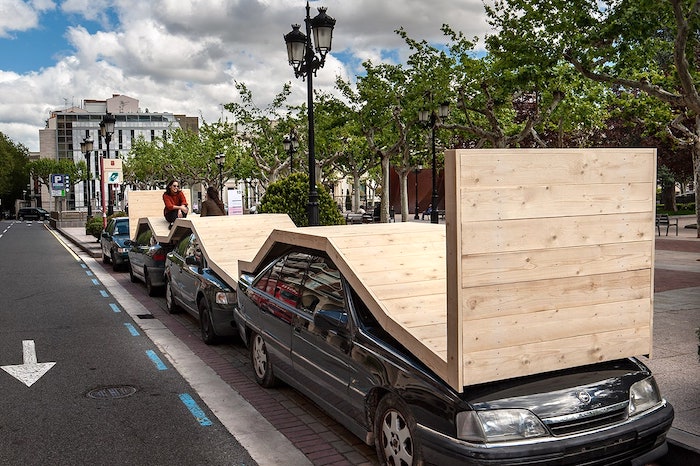 Bufalino has done it again. His past projects have been notorious for their creativity and abnormality. He has already transformed a car into a ping pong table, and has created a fully-functioning pizza oven from an old car, just to name a few. But this time, Bufalino has taken his imagination to new heights, by conceptualising a wooden terrace parklet. But it's not just any traditional parklet. Staying true to his poetic style, he has imagined the parklet in the most unconventional setting, by placing it on top of the cars parked.
Que j'aime quand les artistes rendent palpables les questions du moment ! Celui du droit à une ville sans pollution bat son plein. Entre la poussée des Verts aux dernières élections européennes et la piétonnisation de Bruxelles, entre le baroud d'honneur des deux roues motorisés à Amsterdam et le recul de la mairie de Madrid sur sa zone à faible émission, il y a de la matière.